Microsoft Windows Phone 7 Series announced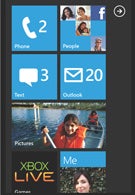 Follow
our live coverage of the Microsoft Press Conference on Twitter!
All Windows Mobile 7 smartphones will be united under the
Windows Phone 7 Series
branding, with the first devices coming out for the holiday season. Not what we wanted to hear.
The brand
new "Start" screen
will feature "live tiles" that will show real-time updating content. For example, you can have a tile for a certain person. Then this tile will present you with the newest pictures and posts of this person, directly at the home screen.
Search will also be an important part in Windows Phone 7 Series, as every device will sport a dedicated hardware Bing button that will bring up the search from every system menu.
There will be that so called Windows hubs, which will take care of various contents. A total of six hubs will present the integration of multimedia and social services and functionality. Here's a brief overview of them:
People – the People hub will take care of your social activities. It will integrate information from your social network profiles, including photos. From here you'll also be able to update your Facebook and Windows Live status.
Pictures – as the name implies, from here you'll be able to examine all your pictures, as well as upload images and video to social networks.
Games – the long-rumored Xbox LIVE integration is finally here! This includes games, Spotlight feed, and gamers' profiles viewing.
Music + Video – this will be the dedicated media hub, as it is said to bring the best of Zune. It will gather content from the PC, online services and FM radio.
Marketplace – this one's pretty straightforward. From here you can simply view, download and install various official apps.
Office – naturally, this hub will let you work with Office documents.
And there it is, Microsoft's long, long awaited new operating system that is supposed to finally bring a completely new experience is finally official. As we said, the first devices from the Windows Phone 7 Series will become available for the holidays, with manufacturers including HTC, Samsung, LG, HP, Sony Ericsson and more. We will, of course, continue to keep you up to date with the latest information on Windows Phone 7 Series. Meanwhile, tell us what you think about it. Will Microsoft succeed in bringing its operating system back from the dead?
source: Microsoft
Check

here for our complete coverage of the Mobile World Congress!
If you have some interesting info that you'd like to share with us, feel free to
Tip Us!