Another swollen Apple iPhone 8 Plus battery discovered in China
53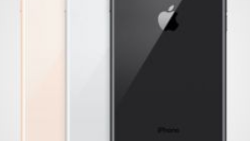 At the end of last month,
there were a few reports on social media about batteries swelling on the Apple iPhone 8 Plus
. The swelling of the cell inside affected handsets creates enough pressure to cause the screen to pop out. Apple said that it would investigate the situation. Today, state run media in China reported that a consumer in the country with the surname Liu, received his
iPhone 8 Plus
with the device cracked open in the box. There were no signs of a fire or an explosion.
Liu returned the unit to the seller, as it was purchased using JD.com's online marketplace. He says that he never had the opportunity to charge the device. Other iPhone 8 Plus owners have complained about receiving their brand new phone in the same condition. At least one person said that he was charging his iPhone 8 Plus with the original charger when the battery started to swell.
Apple is hoping to get to the bottom of this before things spin out of control. While a software update obviously can't change this, halting production and making appropriate changes can prevent Apple from shipping out any more malfunctioning units.
All of this happened to Samsung last year when the company was forced to recall the
Galaxy Note 7
twice. Battery problems led to several explosions and fires. Eventually, the phablet was pulled off the market. Originally, there was just a couple of complaints about the Galaxy Note 7. Eventually, it seemed as though one of Sammy's high-end phablets was exploding every other day. It seems like the very same thing is starting to happen with the iPhone 8 Plus.
via
Reuters