Apple to investigate social media claims of swollen batteries on the iPhone 8 Plus
92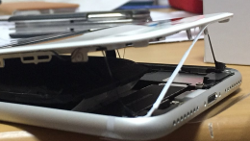 With a pair of claims disseminated over social media pertaining to swollen batteries found on the
Apple iPhone 8 Plus
, the company is going to take the time to investigate the phones, the batteries and anything else it needs to examine to make sure that it has a legitimate theory about the circumstances surrounding the incidents. At least one of the social media posts included pictures showing that the battery swelling pushed the phone's screen right out of its housing.
In one of the examples, the owner of the phone said that the swelling occurred while he was charging the handset using an official Apple cable and power adapter. According to the second iPhone 8 Plus owner with a swollen battery, his phone came straight from Apple with the screen popped out and the cell inside the phone blown up to a multiple of its normal size. Apple's decision to investigate the swollen batteries is not out of the ordinary. According to someone in the know about Apple's policies, the tech titan routinely examines even older iPhone models that are presented with a swollen battery.
Coming just about a year after battery issues torpedoed the
Samsung Galaxy Note 7
, forcing Samsung to recall the phablet twice before taking it off the shelves for good, some are quickly attempting to connect the swollen power source inside the iPhone 8 Plus to the cells that were inside the Galaxy Note 7. However, unlike Sammy's 2016 high-end phablet, the number of affected iPhone 8 units is well within the normal failure rate for lithium ion batteries. The Galaxy Note 7 failure rate was 1 in 20,000 units while currently we have just two iPhone 8 Plus units involved out of millions produced. For now, there is absolutely no connection between the Galaxy Note 7 and the iPhone 8 Plus.
source:
@Magokoro0511
via
AppleInsider