Another iPhone catches fire, this time in Brazil
27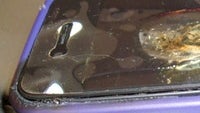 While Apple products are generally known for their great build quality, every once in a while, a faulty product that somehow makes it past the company's rigorous quality tests makes headlines. Of course, an isolated case of an accident caused by a misbehaving piece of electronics is by no means a cause for alarm, yet unfortunately, we may be witnessing a pattern forming before our eyes.
The
iPhone that self-combusted on board a Sydney-bound airplane
was not the only unit to be struck by that unfortunate fate. Reportedly, an iPhone caught fire spontaneously in Brazil while it was charging overnight. The owner of the smartphone, known by the name of Ayla Paulo Mota, says that the accident occurred at dawn on November 22 and that the handset was located dangerously close to her face.
Fortunately, Ayla has not been harmed in any way, but her iPhone is way beyond repair, as it becomes apparent from the photos. And judging by the molten protective case, it is pretty certain that the accident could have lead to much worse consequences if she wasn't there to unplug the smartphone from the outlet. What exactly caused the phone to catch fire remains unclear.
Thanks goes to our tipster!