Another high level RIM executive jumps ship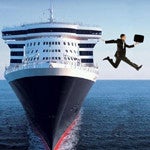 Research in
Motion
suffered another setback today, as Patrick Spence, their executive VP that was in charge of international sales is leaving the company after 14 years. The move was confirmed by RIM spokeswoman Rebecca Freiburger. Freiburger indicated that Spence was not leaving to a competitor, but instead planned to take a job in an unrelated field.
Attracting and retaining talent has been a growing problem as their
stock price tumbles
and BlackBerry handsets continue to
hemorrhage market share
. While several executives have
jumped ship
from RIM in the past year, this one is notable because Spence was in charge of international sales – the one area that had seen growth for them over the last 18 months. Spence had become something of a BlackBerry evangelist, and reportedly was in line for continued rapid promotion due to the performance of the divisions under his supervision.
Does this portend a coming slowdown in developing markets for RIM as well? With several months remaining before the launch of their next-gen BB10 device, RIM could ill afford to see their growth in international markets slow, but we know that there is increasing competition on the low end from so-called "white phone" makers of Android handsets in Asia, a problem that Nokia has cited as one of the reasons why Symbian's market share has collapsed so rapidly.
Of course it could be that Mr. Spence is just looking for a new challenge, but his departure will surely leave RIM scrambling to replace him at a time when they are dependent on international markets.
source:
San Francisco Chronicle