2 more senior executives depart from RIM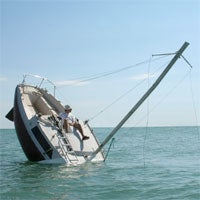 Last week after
RIM announced a $125 million loss in Q4
, several executives resigned from the company. The losses included David Yach, CTO, Software for RIM, Jim Rowan, COO, Global Operations, and former co-CEO Jim Balsillie resigning from the board.
Apparently the damage toll continues to rise at the struggling company. Yesterday a spokesperson for RIM said that Alistair Mitchell, Vice President for the BlackBerry instant-messaging service, has left the company and Alan Brenner, Senior Vice President of the BlackBerry platform will depart after a transition period.
RIM has suffered a 14% loss in global smartphone market share leaving the once industry leader with only 8.2% of the market. On the financial side, RIM's stock has fallen 77% in the past year, leaving its shares at $12.67 at the close of business yesterday.
Last week, Thorsten Heins, who has been CEO since January, said that RIM is moving its focus to business customers. He also said that RIM is weighing other options such as licensing its BlackBerry platform. Finally, he said that a sale of the company would be considered as an option, although that is not the "main direction" for RIM's strategic review.
source:
Bloomberg