Another day, another set of Google Play 25 cent apps
11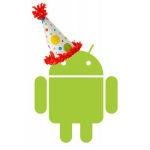 As we all know by now, Google has been celebrating hitting 25 billion app downloads by offering a new set of apps for just 25 cents each. We've had four days of apps, and today marks day five. Maybe it's just us, but today looks like the best one yet. Each day there have been maybe one or two really good deals in the app selection, but today there looks to be 5 solid apps that are around the "must by" recommendation.
First off, if you're a gamer, there are 3 top notch games that you should grab if you haven't yet. 75 cents total will net you
The Dark Knight Rises
,
Horn
, and Great Big War Game. That's a solid haul. If you are running low on quarters, you still have the choice between two great action games, and one action/strategy game. Just be warned that Horn and Dark Knight are each almost 2GB, so you'll have to have free space available.
But, the jewel of today's deals (in our opinion) is Nova Launcher Prime. Nova Launcher is one of, if not the best alternative launcher for Android 4.x, and the Prime version (read Pro version) unlocks options for organizing apps in your drawer, gestures, unread counts for messages, and a lot more transition effects. Definitely a solid buy.