Angry Birds eyes 1 billion downloads, "always looking for money"
3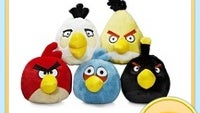 Angry Birds might be a smash cross-platform hit, but with
250 million downloads
of all different flavors, 1 billion might seem like a tough call. But that's exactly what Rovio has set as a goal.
"This is something that even six months ago was unthinkable,"
said Wibe Wagemans, heading the company's marketing.
Yet, the game has managed to appear on pretty much every platform with
Windows Phone being the last to get the Angry Birds roster
at the end of June. Getting one billion downloads is not just a goal set to tickle the ego of the Finnish company – it's something Rovio can use to attract even more investments.
"We're always looking for money,"
Wagemens added at the MobileBeat conference in San Francisco, surprising the audience after the company raised $42 million in March.
Where is all this money going to? How about merchandize – Rovio has just released Angry Birds flip-flops, but it also offers all kinds of apparel and accessories like socks, bags and ties. You can also get Angry Birds plush toys and use them with a real slingshot if you wish. Actually, Angry Birds is the third most copied brand in China, reportedly rivaling Hello Kitty.
And the road to expansion is open with a Facebook version of the game coming soon, while just recently the game has been made available on Roku streaming receivers. While talking about Angry Birds' future, Wagemans also commented on another Finnish company, Nokia:
"I'd love to see from Nokia some other options like a Plan B for the future."
But remaining platform-neutral is in the core of Angry Birds success, and the company will stay that way, he concluded.