Have fun with these Angry Birds, even without a smartphone
6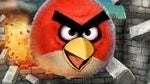 Are you a big fan of Angry Birds? Do you spend all of your free time hurtling those birds into the air, hoping to knock down the pig's hideout? Canada's Future Shop is now offering a small number of items that allow you to show the world who is the
game's number one fan
.
The 8 inch Angry Birds plush doll comes in red or yellow. The doll does make noise and costs $15.99. Some players out there have to be
fans of the pigs, too
. And for them, the store is offering an 8 inch plush pig with sound. That also costs $15.99. A 5 inch plush toy with sound, showing a variety of characters from the game, is on sale for $5.99. The plush toys are available at Future Shop stores or online from the company's web site.
Apple iPhone 4 users can proudly show the world that they are an
Angry Birds aficionado
by putting their smartphone into an Angry Birds iPhone 4 case. Available in green, yellow and red (Gee, we wonder why those colors were selected), the Angry Birds Apple iPhone 4 case is $34.99. The cases are not available for purchase online, and unfortunately, you will have to contact each individual Future Shop store to check on availability.
Angry Birds has been an amazing story and is quickly becoming one of the
most valuable game franchises in the world
. The question is, will we still be writing about the Angry Birds in two to three years, or will the game suffer the fate that happens to every fad?
source:
FutureShop
via
MobileSyrup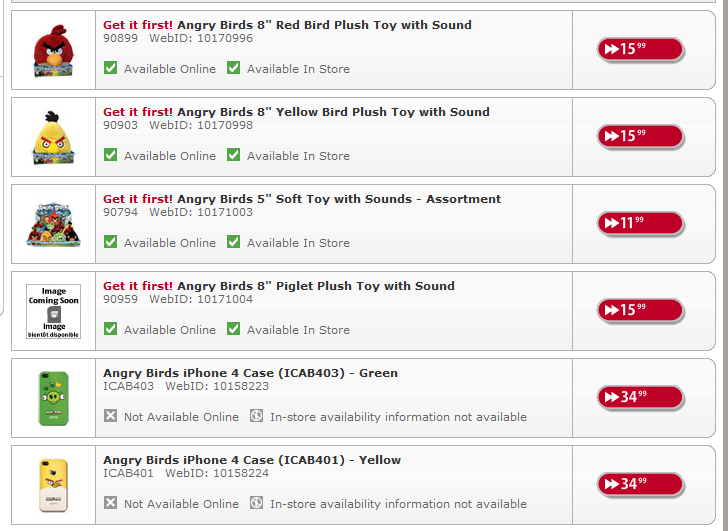 6 out of the 7 Angry Birds products available from Future Shop