Angry Birds Epic now live on iOS in Canada, Australia, and New Zealand
5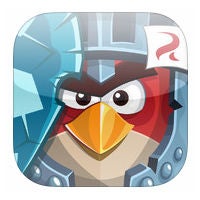 There wasn't all that much of a delay between the announcement that the next Angry Birds game would be a turn-based RPG called "Epic" and the beginning of the game's "
soft launch
". Angry Birds Epic is available right now in the iOS App Store for users in Canada, Australia, and New Zealand meaning that the soft launch has begun. While Rovio didn't say exactly, it is assumed that this soft launch is being used for the same reason as the soft launch of
Angry Birds Go!
, which is to say that Rovio wants to test out the payment system in the game and may end up changing the pricing on some of the in-app purchases.
Angry Birds Epic is another attempt to branch away from the overloaded bird-flinging games in the Rovio oeuvre. Angry Birds has been almost exclusively bird-flinging until the Go! kart racer (unless you want to count the Bad Piggies game). Epic looks to be a not-so-serious take on the turn-based RPG genre with appropriately silly weapons and characters.
The gameplay elements should be about what you'd expect from a free-to-play RPG though, where you collect gear through battles and can then craft better weapons, armor, or potions using that gear. We are not in one of the launch regions, but there are quite a few Let's Play videos for the game on YouTube already if you want to see what to expect. From what we've seen, there are Lucky Coins which look to be in the FTP category of "currency that doesn't generate fast enough". Lucky Coins start at $6.50 for a pack of 100 and go up to a pack of 3000 for $124.99. There are also other less valuable coins that you get from playing.
The worst part seems to be that Rovio has once again instituted a lives system. The game is broken up into stages, just like most Angry Birds games, but you only get 5 lives, so if you lose a battle, you lose a life. You can pay to get more lives, but we haven't yet seen the screen with the prices on that. Overall though, the in-app purchases don't look to be as obnoxious as Angry Birds Go!, but we'll have to keep an eye on it.