Angry Birds Go! review, or how annoying in-app purchases can actually be
6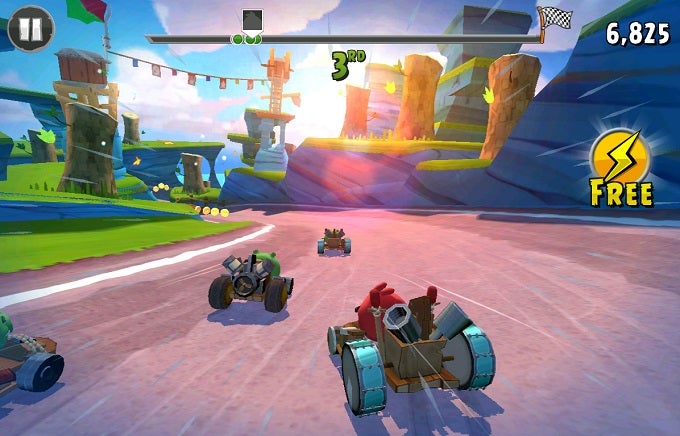 Last Wednesday, Rovio launched its newest game featuring everyone's favorite wingless avians. It is called Angry Birds Go! and it is unlike anything we've seen from the Finnish developer so far. Like it or not, this time there's no flinging anything at a barricaded mob of grinning piggies. Rovio is presenting us with a cute and colorful kart racing game instead, presumably in effort to spice up its massively popular franchise. Curious to know what Rovio has put together this time, we downloaded the game right after it was made available. Here's what we have to say about it.
There's plenty of variety in Angry Birds Go!, even though we do have a few remarks. First and foremost, there are different cars and driver birds to pick from. Cars can be upgraded to be faster or more stable on the road and each bird has a unique special skill to unleash upon their opponents. Multiple race modes, various challenges, and most importantly, new driver birds become available as you progress, so the game does not get too monotone too quickly. Tracks, however, are repetitive and much shorter than we wish they were. Seriously, a race lasts for roughly a minute, which isn't what we'd call fun.
Angry Birds Go! is a nice and relatively simple racing game that you can easily kill a few minutes with. Its easy-to-learn controls, short tracks, and moderate difficulty make it highly suitable for casual gamers and kids of all ages. However, we think that the guys at Rovio have gone a bit too far with the in-app purchases. We're fine with having the option to buy extra in-game currency, but we don't like having to buy it in order to keep on playing. Still, if you can live with the lengthy waiting times, then Angry Birds Go! is a game you might want to check out.
Pros
Easy to play
Variety of modes and drivers
Cons
Too reliant on IAPs
No multiplayer
Repetitive tracks
Angry Birds Go!