Android users demographics
9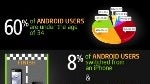 We like infographics as much as the next guy, so we thought we'd share this one with you - some interesting tidbits about the ways of Android users.
First off, sixty percent of people that acquired a phone with Google's mobile OS are under 34 years of age. 30% are aged 35-49, and the next big group is the 25-34 year olds, which holds 28% of the market.
Just 8% are coming from an iPhone, while for a whopping 45% the little green robot has brought their first smartphone along. There are more interesting comparison's with iPhone users - they, for example are seven times more likely to purchase something from within the game they are playing, than their Android counterparts. Also, the average iPhone user has 28 apps on their handset, compared to 17 for Android.
The statistic that surprised us most was that less than half of Android users prefer virtual keyboards over physical ones - 46%. Considering that it's precisely Android on the phones with 4" screens and above, such as the
Motorola DROID X
,
HTC EVO 4G
,
Samsung Galaxy S
, or the
HTC Desire HD
(not to mention
Dell Streak
), it is certainly something for manufacturers to think about, when targeting phones like the
T-Mobile G2
, or the
Samsung Epic 4G
.
The statistical breakdown continues with the fact that the Android crowd is making twice more purchases or payments than the average smartphone user. Ending the study of the Android phenomenon is a vital list - the top three games on Google's mobile OS are Angry Birds, Jewels, and... Solitaire, of all things.
What do you think, any surprises in those results for you?
via
DailyMobile
Recommended Stories