Android only platform in U.S. to show growth during 3 months ended in July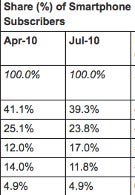 According to the latest tally from metrics firm comScore, Android was the only platform to show growth among U.S. smartphone platforms in the three months ending in July. During that period, 41% more U.S. smartphone owners were using phones powered by Google's open source OS, than in the 3 month period that ended in April. As a result, the OS now owns a 17% slice of the U.S. pie, up from 12% in the previous report.
As the only OS showing growth this summer in the states, Android jumped over Windows to third place among competitors. RIM leads the way with a 39.3% share, down from 41.1% in the April report. Apple slipped from 25.1% to 23.8%, still holding on to second place. Windows now has 11.8% of the market, down from 14%. Palm's webOS was unchanged during the three months and owns 4.9% of the pie.
While surpassing RIM will be the eventual goal for Google, the next step would be to overtake Apple and while that might not be accomplished by the end of the year, it certainly seems in sight for 2011.
source:
AndroidandMe