Android gaming console Ouya shipping soon to developers
6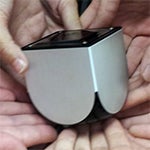 The Android-based gaming console Ouya was one of the most successful Kickstarter projects of all time, raising a whopping
$8.6 million dollars
from more than 60,000 backers. And now it appears set to perform an even more impressive feat: shipping on time. According to Ouya's official blog, supporters that sprung for developer access will have their consoles shipped out on December 28th.
For those of you who missed the Ouya phenomena, the little Android-powered cube is based on the Tegra3 platform and 1 GB of RAM, and will ship along with a customer gaming controller for $99 next year. In addition to early access, those signed up for the developer version are going to receive some unannounced perks; the Ouya blog says that developers will discover that their units are special as soon as they open the box. It's hard to know what that means right now – perhaps a unique color scheme?
Status symbol and early access aside, if you harbor dreams of making your own indie video game but missed out on the Kickstarter project you aren't out of luck, as every Ouya console can be unlocked, hacked, and developed on as you see fit. The Ouya Developers Kit (ODK) is currently being beta tested and should also launch when the first batch of developer editions ships – at that point the software will be available to everyone, so you can get started on that smash Tomb Raider knockoff you've been meaning to code, even if you don't have a console yet.
Perhaps best of all, seeing major projects like this hit their targets should help instill confidence in Kickstarter as a way to get independent projects off the ground.
source:
Ouya
via
Phandroid