Android devices will outnumber Windows PCs by 2016, Microsoft looks for a clean pair of shorts
31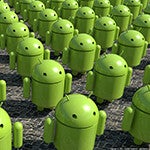 In case you've ever wondered why Microsoft is
hell-bent
on making Windows Phone successful, regardless of cost, International Data Corporations lays it out pretty starkly:
by 2016 there will be more Android devices than traditional Windows PCs
. IDC combined their tracking and forecasts for PCs, mobile phones, and tablets to generate the data, which they released today.
That's not just a loss of licensing revenue to Microsoft – think of how that sort of market share change will impact gaming, search engine competitiveness, software distribution, advertising revenue, etc. How many people will continue to use Microsoft's other products if Android devices are in more common use by then? We imagine we will see an Office suite released for Android (
and iOS
) before 2016, but will the Office brand have the same clout if it's not being bolstered by Windows? Would an
Xbox
app appeal to enough people if most gaming takes place on
Apple and Google's
platforms?
Microsoft is facing an existential crisis in the post-PC era
. Not that we expect Microsoft would go out of business, but if they can't disrupt
Android and iOS's trajectory
they could be forced to exit the consumer market, becoming more of a business solutions provider. And they would certainly have to make do with
significantly smaller piles of cash
. The success (or failure) of Windows Phone handsets and
Windows 8 tablets
may truly tell us whether Microsoft has a significant role to play in the coming decade of consumer technology, or whether they missed the bus by not reacting to the iPhone and Android threat in a timely manner.
source:
IDC
via
TechCrunch