Android apps and Play Store coming to Chromebooks
9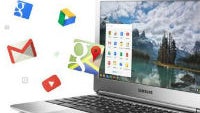 It has been rumored for a while that Android apps and the Google Play Store would be
making their way to Chromebooks
, but now we officially have proof that the marriage is on the way as evidenced by a Google I/O session description. There's not a lot of information just yet, but the session is scheduled for tomorrow, so we should know more then.
It doesn't sound like the Play Store will be hitting Chrome OS any time too soon, because the session is described as a time for developers to learn more about optimizing their Android apps for use on Chrome. Google says there will be friendly engineers there to help optimize Android apps for Chromebooks, and the first 50 developers to show up will be receiving a free Chromebook. Google I/O is all about the freebies.
If we had to take a guess, we'd assume Android apps and the Play Store will be coming to Chrome by fall at the latest, because most everything that Google has been announcing at Google I/O so far has been scheduled to be released this summer or fall. Once Android apps do make it to Chrome, it would be a big boost for Chromebooks in allowing the devices to rely less on the Web and a constant Internet connection.