Google's Chrome OS will soon get Android app support
25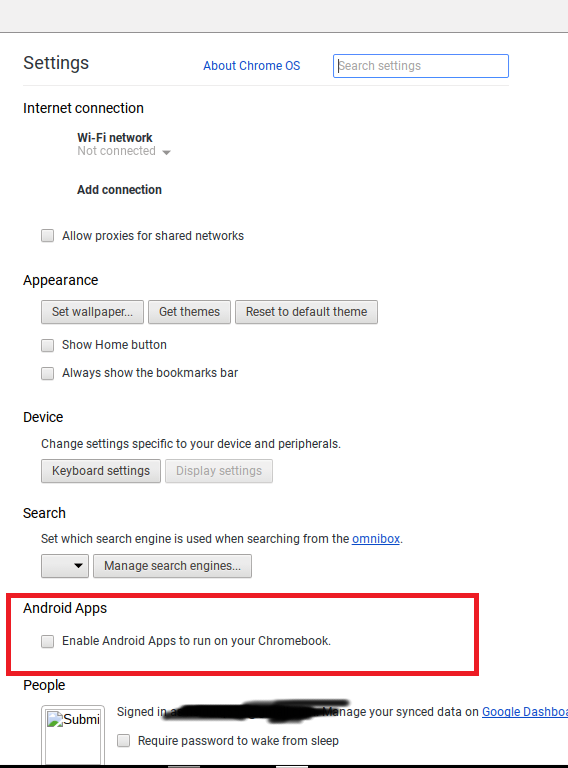 The Chrome OS v51 dev preview shows the option to enable Android apps to run on your Chromebook
If a recent discovery in the Chrome OS source code is any indication, Google's notebook operating system is about to officially get access to Android apps.
This weekend, a Reddit user discovered a new and interesting checkbox in the settings menu of Chromebooks running v51 of the OS. Further researched showed that the Chrome OS source code indicates that users will soon be able to access "more than a million" apps from the Google Play Store. To us, this is a clear indication that Google's Chrome OS will soon get support for Android apps.
At the moment, Chrome OS v51 is only available as a developer preview. Those who've been able to activate the checkbox in the settings menu say that the OS pops out a tutorial on how to get Play Store apps, but the feature doesn't actually work. With Google's I/O developer conference coming up next month, there's a very good chance for this new Chrome OS feature to be officially introduced at the conference.
Note that this wouldn't be Google's first attempt to bring Android apps to the Chrome OS, although the company's previous attempts were aimed at developers, not end users. In late 2014, Google made it possible for app developers to test drive Android apps on Chrome OS devices using a tool called the "App Runtime for Chrome". About a year ago, Google went a step further and launched
ARC Welder
, a tool that allowed devs to test their Android apps on any device running the Google Chrome browser.
Over this past year or so, unofficial reports indicated that
Google is planning to fold Chrome OS into Android
. Google says that Chrome OS is here to stay, but it looks like the company is taking action to bring the vast array of apps available in the Play Store to Chromebook users. For Chromebook users, this is a very good thing, as Chrome OS hasn't received the same kind of developer love as its mobile-oriented cousin.