Android anorexics: world's thinnest phones for the year roundup
20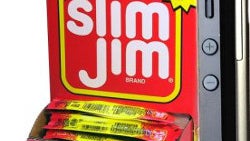 Thin is in again this year, people, just when we thought that dubious advantage of one smartphone before the other has gone the way of the Dodo. Manufacturers, from Sony through Huawei to local hero Chinese brands, are racing to come out with the "thinnest" title this year.
We are not entirely sold on the super-slim idea, as it makes the phone uncomfortable to grab when lying flat on the tablet, for instance, and leaves less space for battery and other internals, not to mention the potential heat dissipation and general endurance issues.
There's no denying that slim looks elegant and sophisticated, however, and a lot of users are willing to trade functionality for looks, thus we are rounding up this year's Slim Jim releases in the sub-8mm Android universe, for a closer look what happens on a low-carb diet.
Recommended Stories