Android Market now at 200,000 apps as Windows Marketplace hits the 5,000 level
7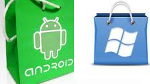 AndroLib's latest count shows that there are now 200,000 apps in the Android Market. Like watching an infant grow up and learn how to walk and talk and head into puberty, the Market has undergone some changes recently, as we
reported
. The Market has grown a bit faster than predicted. An
article from a year ago
called for 150,000 apps in the Android Market by year end 2010. The amazing thing is not that the estimate was topped by 50,000 applications, but that at this time last year there were only 16,000 apps in the Android Market.
That stunning growth gives hope to users of Windows Phone 7 models. The Windows Marketplace celebrated a milestone of its own and now has 5,000 apps available. Unlike the apps available for Android a small minority of 28% are free for the Windows Marketplace and 22% are games. AndroLib's breakdown shows that the free downloads in the Android Market control 63.3% of the pie, and only 14.8% are games.
So what is in store for these two markets for the next 12 months? With the better game playing capabilities of future Android handsets, more games should make their way into the Market. Many Android apps are supported by ads, which explains the large percentage of free apps. But as other payment options become the norm for the store, the future could see more paid apps for Android. As for Windows, the amazing parabolic growth of the Android Market will be a goal to aim for, but it will all come down to handset sales and whether or not phones using Microsoft's new mobile OS can ring up sales at the same rate as those handsets using Google's open source OS.
source:
AndroLib
,
WP7applist
via
Engadget