Android M to be introduced at Google I/O 2015?
44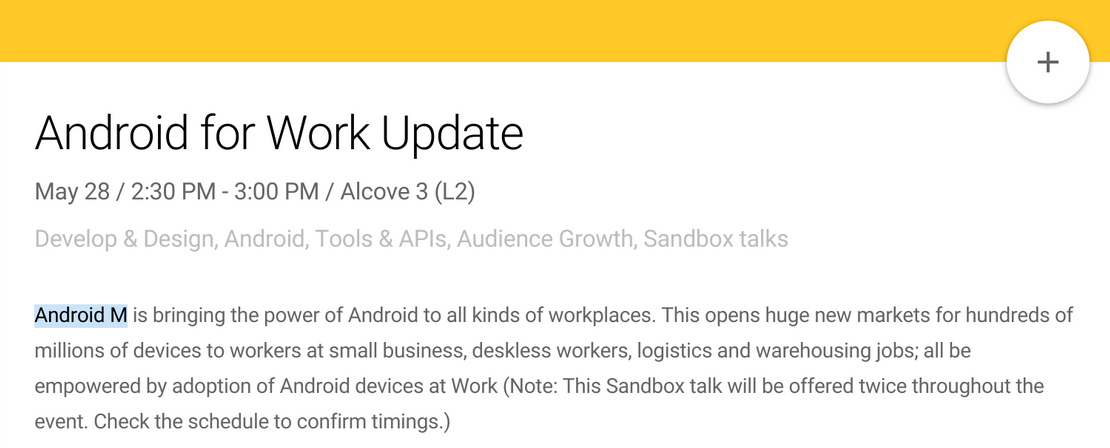 Google to introduce Android M at I/O later this month
Last year at Google I/O,
Google introduced Android L
which of course became Lollipop. With the release today of the schedule for I/O 2015, Google slipped and posted about a session called "Android for Work." A description of the event mentions how Android M is "
bringing the power of Android to all kinds of workplaces
."
Before you get terribly excited, if anything we will probably be given just enough of a taste of the new Android build to whet our appetite. After all,
only 10% of Android devices are loaded with Android 5.0 or Android 5.1 right now
. While Google might show us some of what Android M can do during I/O, we might not even learn what "M" will stand for until months later. It wasn't until October, around three months after Google I/O was over, when Lollipop became official.
So what will Android M be? Some of the favorites include Muffin and Marshmallow. Or perhaps we will see Google make a deal with a chocolate company like it did with KitKat and Android M will be M&M's, the OS that melts in your mouth, not in your hands.
Google I/O 2015 will run from May 28th to May 29th
in San Francisco. By the way, Google has already removed the "Android for Work" session from the Google I/O schedule it released earlier today.
source:
Google
via
AndroidPolice