Android L calculator in Google Play Store helps things add up
16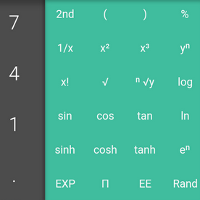 On Wednesday, we told you a couple of ways to
load the Android L "Heads-up" notification system on your Android phone
. Those with Android 4.3 or higher can buy the app for 99 cents from the Google Play Store. Those using a device rockin' Android 4.0 to Android 4.3, will have to root their device in order to receive notifications on their phone the Android L way.
Another Android L app now available from the Google Play Store, is the Android L calculator. The developer warns that the app might be buggy and it does include ads, at least for now. You can also quickly turn your basic functions calculator into a scientific calculator. In the current version of Android, that can be achieved by turning your device into landscape mode while the calculator is open. With the Android L calculator, you can slide the advanced menu on to the screen in either portrait or landscape mode.
The app is free, but the developer warns those loading it, that you might need to be patient when loading it the first time. Android 2.2 and higher is required, which means that most of you will be eligible to install the Android L calculator on your phone. Imagine how envious everyone on your block will be, when they see you tallying up figures using this calculator.
Thanks for the tip, Amir!
source:
AndroidLCalculator