Android 4.4 features include support for wearables and improved performance for low-memory devices
20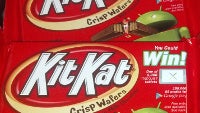 With rumors circulating that Android 4.4 will be launched as soon as Thursday, leaks from a confidential letter sent by Google to its OEMs detail some of the changes we can expect to see on Android devices running KitKat. One important feature will be the ability of low memory models to update to newer builds of Android. Low memory handsets made by Huawei, Samsung and ZTE that have 512MB of RAM inside, are at a major disadvantage to today's mid to high-range models that are packed with 2 to 3GB of the stuff. These low memory models usually are not updated to newer builds of Android. That could change with Android 4.4.
In addition to helping low-memory phones get updated, KitKat could also be used by wearable devices, like a smartwatch, which also don't carry that much memory. Android 4.4 apparently supports three new kinds of sensors, geomagnetic rotation vector, step detector and step counter, which could make it perfect for smartwatches and for Google Glass. The sensors will be able to tell how far someone walked based on the number of steps taken. This could come in handy when displaying indoor maps.
KitKat will also allow developers to write apps that allow a phone to replace a physical card and help make a mobile payment, get loyalty rewards or enter a secure building or room. By replacing cards with the actual phone, developers won't need permission from a carrier in certain circumstances, making it faster and easier to create apps that use NFC to transmit information used in making a payment or accessing a certain room that requires secure entry. And Android 4.4 will allow Android phones to use Bluetooth as a way to control more devices.
While HTC and Samsung have phones that double as remotes for televisions, developers have to write apps based on different manufacturers. But that will not be the case after KitKat since the OS will bring standardized remote to Android phones.
source:
jessicalessin
via
MobileSyrup