Android 2.1 update on Motorola DROID slows graphic processing on the phone
This article contains unofficial information.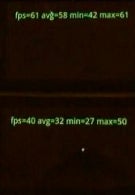 Motorola DROID users had been teased a couple of times before the Android
2.1
upgrade finally started to rollout this past week. Now, some DROID owners might want to give it back! It seems that the upgrade changed the code a little bit and the bottom line is that graphics are processed at a lower rate of speed after Android 2.1 is installed. To the naked eye, there might not be much of a difference, but as the video below shows, the numbers tell the tale: speeds drop by as much as 50% in some tests. Some game developers who have noticed the drop in frames per second have been in touch with Motorola and we will see if this is considered a big enough deal to halt the rollout of the upgrade to put together a fix for the problem, or if things will proceed with a future tweak in store.
Motorola DROID Specifications
|
Review
source:
TesujiGames
via
AndroidCentral