Analysts expect the Apple Watch to capture about 50% of the global smartwatch market in 2016
38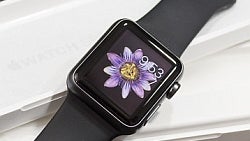 According to a new report from research firm the International Data Corporation (IDC), Apple's reign over the smartwatch market will continue throughout 2016, although Android Wear is expected to catch up by 2020.
Apple is expected to sell 14 million smartwatches in 2016 for a 49.4% slice of the global smartwatch market, which is estimated to grow 32.8% year-over-year to 28.3 million units.
Apple does not disclose Watch sales, but analysts believe that the Cupertino company was able to sell 11.5 million units in just 8 months of commercial availability in 2015, good for an impressive 63% slice of the global smartwatch market.
The IDC says that demand for the original Apple Watch might tone down in the early part of the year as customers start anticipating the next model, but that the second-generation Watch will turn the scales back in Apple's favor. However, the IDC also predicts that Apple will continue to lose market share as competitor offerings penetrate the market.
Android Wear expected to pick up steam by 2020
According to this new report, Google's Android Wear will account for 21.4 percent of the smartwatch market in 2016. Samsung's Tizen is also expected to make some progress this year as well. The FCC says that Samsung's wearable OS might ship on as many as 3.2 million smartwatches this year, a 11.3% slice of the market.
By 2020, the report claims that Apple and Google will share the lion's part of the smartwatch market. Five years into the future, Apple's watchOS is forecasted to account for 37.6% global smartwatch shipments, followed by Android Wear with 35%.
Although Samsung is expected to have moderate success with Tizen smartwatches, the report notes that proprietary operating systems will become the third-largest slice of the market by 2020, with 10 percentage points.
The open-source version of Android, which is what Chinese smartwatch makers can use to bypass Google's restrictions on the UI, is estimated to account for just 1% of the market in 2016. Looking into the future, the IDC estimates that more and more smartwatch manufacturers will turn to open source Android in an attempt to differentiate their products.