Analyst survey in Europe disses sales potential for the Nokia Lumia line of Windows Phones
12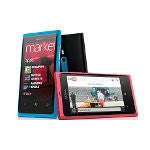 Alexander Peterc from Exane BNP Paribas issued a note to the bank's clients that only 2.2% of the people he surveyed have the intention to buy a Nokia Windows Phone this season - Nokia's Lumia WP line is currently represented by the
Lumia 800
and
Lumia 710
smartphones.
Out of the 1300 people he surveyed in the five countries the Lumia 800 is on sale starting December 5, he left 456 as the survey sample, since they were the ones intending to get a smartphone. The brokerage house slashed its forecast accordingly, to 800 000 units sold, down from the previous estimate it had of 2 million Nokia Lumia devices sold until year-end, and lowered Nokia's shares rating to "underperform" with the following comments:
With only 2.2 percent of surveyed buyers firmly intending to purchase the Lumia, Nokia's first flagship Windows Phone is ... far behind the current blockbusters, Apple's iPhone 4S and Samsung's Galaxy S II.
We've heard such predictions before, and
Nokia has been refuting claims that the Lumia 800 isn't selling well
, with
some indirect proof for the opposite
, but until the numbers are in officially, nobody knows for sure.
source:
Reuters