Analyst says that both Verizon and AT&T had 34% of the U.S. cell market in Q1 2014
30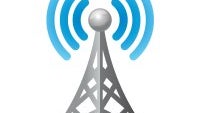 Analyst Chetan Sharma says that both Verizon and AT&T owned 34% of the U.S. cellular market in the first quarter of the year. While Verizon has been the number one carrier in the U.S. for some time, AT&T's purchase of Leap Wireless brought with it a number of Cricket subscribers, that helped it close the gap with Verizon. Sprint is a distant third with 16% of the stateside smartphone market, while T-Mobile is fourth with 14%.
Sharma has AT&T tied with Verizon because he includes AT&T's MVNOs and machine to machine hookups. As a result, the analyst says that in Q1 AT&T had 116 million subscribers. Verizon, which only reports business and consumer retail subscribers, had 103 million such accounts. If you compared apples with apples (no pun intended), and looked only at AT&T's business and consumer retail subscribers, that figure would have been 85.1 million. On that basis, Verizon would retain its position at the top.
Sprint has been trying to calm regulators opposed to a possible Sprint purchase of T-Mobile
, by saying that such a combination is the only way to challenge the duopoly at the top. Based on Sharma's stats, a merged Sprint/T-Mobile would have 30% of the U.S. market. That could make a combined firm a formidable challenger to Verizon and AT&T.
According to Sharma, 2014 will be the year that the U.S. becomes the first country to bill over $100 billion in mobile data services. He adds that T-Mobile continues to show strong momentum, accounting for a whopping 66% of the major U.S. carriers' net new customers in the first quarter. And with 93% of all new phones purchased in the first three months of the year being the intelligent kind, smartphone penetration is now 68% in the U.S.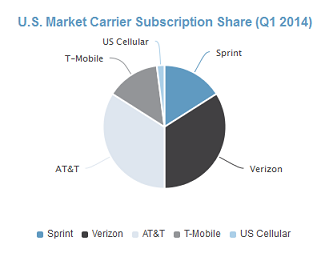 Verizon and AT&T each have 34% of the U.S. wireless market
source:
ChetanSharma
,
GigaOM
via
Engadget