Analyst says all 2017 iPhones to feature Lightning ports and fast charging
23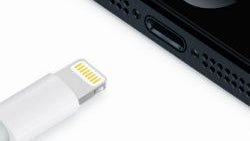 There has been a bit of confusion going around as to whether or not the new iPhones released this year will feature Lightning ports or not. First, there was an oddly-worded WSJ story that seemed to indicate that Apple was
switching to USB-C
(although we're not totally convinced about that), but now a respected analyst is claiming the Lightning port is staying but with a new trick.
Ming-Chi Kuo of KGI Securities isn't always right in his predictions about Apple, but he's right often enough to be taken seriously when speaking. Kuo claims (
as we guessed
) that rather than changing the charging port on the iPhone itself, Apple would be modifying the charging cable included with the phone. So, the iPhone will still feature a Lightning port, but the other end of the cable will be USB-C and the cable will take advantage of the faster charging spec available by using USB-C.
Kuo said all of the new iPhones released in 2017 will feature "Type-C Power Delivery" technology as well as adopt power management from Texas Instruments and power delivery chips from Cypress. Additionally, the flagship iPhone 8 could offer even faster charging by using a new "2-cell L-shaped battery pack design."
One strange bit from Kuo was that he seemed to indicate that although Apple would take advantage of the faster power delivery spec of USB-C, it may not be able to get the data transmission speed upgrade if the iPhone itself still has a Lightning jack. Kuo said this might not be a priority for Apple because transferring files via a cable is a "niche application" these days as most people sync data through the cloud.