AnTuTu ranks the most popular smartphones that passed through its benchmark in 2014
15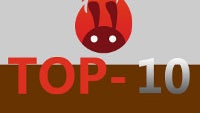 Last week, the makers of the widely-popular benchmarking suite, AnTuTu, published
a ranking of the consistently best performing devices that passed through its tests worldwide
. The Meizu MX4 topped that list, followed by the Motorola-made Google Nexus 6, the Samsung Galaxy Alpha, and the Samsung Galaxy Note 4.
Instead of comparing scores, however, this time around the AnTuTu team shared which devices were most popular in a particular region – globally, and in the US, Russia, China (mainland), Hong Kong, Taiwan, and South Korea. Keep in mind that this isn't necessarily 100% representative for the entire globe, as users in certain regions (like China) are far more likely to download the app than others, thus skewing the stats in favor of their respective local preferences. With that in mind, let's see who ranked where.
The number one spot globally holds a surprise – Xiaomi's Mi 4 has apparently bested the Galaxy Note 3 in terms of the number of benchmark tests ran with it. These two are followed by the Samsung Galaxy S5 and another Xiaomi flagship – the Mi 3. We then have Asus' ZenFone 5, Meizu's MX4, Samsung's Galaxy Note 4, HTC's One, and Google's and Samsung's Nexus 5 and Galaxy S5, respectively.
As for the US chart, things are looking quite different. For one, the only Chinese handset to make the list is the OnePlus One, and that, again, likely has a lot to do with the fact that the One's target group is techies, who are more likely to fire up a benchmarking app such as AnTuTu and see how their device do. In any case, the chart itself is topped by none other than Samsung's Galaxy Note 4, followed by the Galaxy S5. The aforementioned OnePlus landed on the number three slot, with the LG G3 following closely behind. See the full lists for all available regions below.