An iPhone 8 supplier reportedly bails, forcing Apple to spend millions on OLED PCB tools
46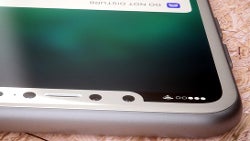 Apple may not be dealing directly with manufacturing its own phones, but it does not shy away from purchasing production equipment for its suppliers if the situation calls for it, no matter how complex or expensive it is. They did it with the unique machines that polished the glass iPhones, then again by
fronting display makers
, and now, apparently, they are doing it with the tools to make the rigid-flexible printed circuit boards (RFPCB) needed for the upcoming OLED
iPhone 8
.
Last we heard about that part, Samsung had allegedly
placed an order
for 70 million FPCBs with two of its suppliers, ready to ship them to the factory in Vietnam where they were likely to be used for connecting the OLED panels destined for Apple's iPhone 8. Apple has secured a third supplier from Taiwan as well, says a new report, but the company got cold feet in the last minute due to troubles with scaling production with the required quality by Apple.
After the Taiwanese bailed out, Apple started buying the expensive equipment for the boards in order to deliver it to the two Korean companies left in the game, and cover any shortages that may arise in the supply chain. "
To fill the loss, Apple is supporting the other two suppliers, both Korean, to beef up production
," tips the source. The machines are worth tens of millions, and Apple is reportedly leasing them to Samsung Display's suppliers that are tasked with making the RFPCB, which are trickier to produce than the conventional ones.