Ampy charger uses kinetic energy to charge your phone
14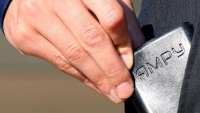 Ampy is a new Kickstarter listed battery charger for your smartphone, that is a little different than the usual portable power pack. Instead of plugging the device into a wall to power up its battery, Ampy stores your kinetic energy to use as power. The company behind the device, also called Ampy, says that its device can charge up just as fast as the average power pack that plugs into a wall. 10,000 steps, which according to Ampy is an average day, will provide enough juice to keep your handset going for three hours. That is also the amount of energy that a 30 minute run, or an hour on a bike, will generate.
Ampy costs $85 and will start shipping next June. There is also an accompanying app that tracks the calories you've burned and the power generated while using Ampy. With 28 days left to raise funds on Kickstarter, the charger has brought in pledges of $117,160, which is well over the $100,000 target that the company was aiming for.
Ampy also offers an accessories kit that includes an arm band, a sleeve and a clip that will keep it in place while you exercise. And the company has hopes that the technology could become integrated into smartwatches, fitness trackers and other devices. In case you are wondering, the battery inside Ampy is a 1000mAh cell.
You can learn more information about the kinetic motion charger, by clicking on the slideshow below.
source:
Kickstarter
via
RedmondPie
Recommended Stories