Amount of RAM in the Apple iPhone 6s, Apple iPhone 6s Plus and the Apple iPad Pro confirmed by Xcode
99+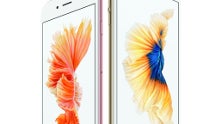 Xcode, the suite of development tools produced by Apple, might have finally answered the question about how much RAM Apple stuffed inside its newest iPhone models, and the new
Apple iPad Pro
. Throughout this year,
there were countless rumors
that the
Apple iPhone 6s
and
Apple iPhone 6s Plus
would have the amount of RAM inside doubled to 2GB. However, during the introduction of the new models last Wednesday, Apple did not confirm or deny the speculation.
Images from Xcode seemingly confirm that Apple did indeed place 2GB of RAM in the iPhone 6s and iPhone 6s Plus, compared to the 1GB of RAM inside the
Apple iPhone 6
and
Apple iPhone 6 Plus
. The larger amount of short term random access memory will allow iPhone users to more smoothly multitask between apps, and some graphic intensive games could run smoother. While top-shelf Android phones now offer 4GB of RAM, an Apple to apple comparison cannot be made. That is because iOS is optimized to run smoothly using less RAM than Android is.
Xcode also confirms that the 12.9-inch Apple iPad Pro, also unveiled last Wednesday, features 4GB of RAM. That is twice the amount that Apple installs on the
Apple iPad Air 2
. Apple's partner
Adobe accidentally revealed last week that 4GB of RAM is used on the iPad Pro
, but quickly pulled the reference on an online document.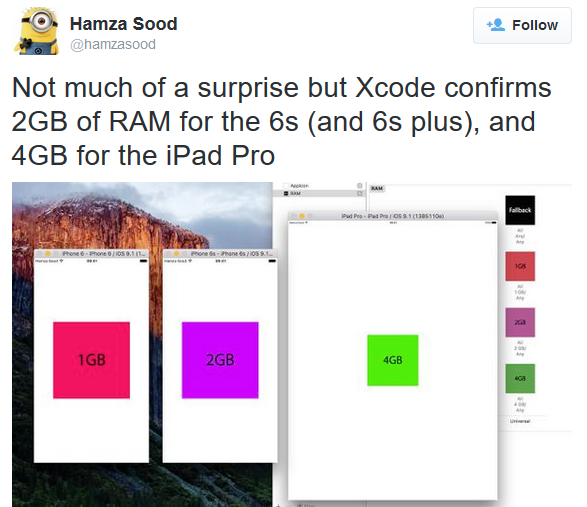 Xcode confirms the amount of RAM in Apple's new iPhones, and inside the iPad Pro
source:
@hamzasood
via
MacRumors