Amazon sold more than 4 million Kindles in December
13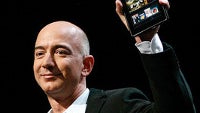 Amazon definitely got its timing and pricing right for its latest Kindles, including the Amazon Kindle Fire, and now the company has reported that total
Kindle sales in December reached 4 million
. And the month is not even over yet. The company announced that it sold millions of the Fire and millions of other Kindles, but didn't specify exactly how many.
For the whole Kindle series this is the best year with
over 1 million Kindles getting sold each week
. On Amazon, the 7-inch Fire tablet was the number one gift and wish this season. It ranked on top of the bestsellers list in UK, France, Spain and Italy, and topped sales on Amazon's mobile page.
"We are grateful to our customers worldwide for making this the best holiday ever for Kindle,"
Amazon CEO Jeff Bezos said.
This success is also partly due to the huge content base lying behind Amazon. The company's catalog serves as a big incentive in Kindle Fire purchases. Here's the rest of the interesting Holiday Amazon shopping facts:
Amazon customers purchased enough copies of Walter Isaacson's "Steve Jobs" book to create a stack taller than Mt. Everest.
The cumulative weight of the Bowflex 552 Adjustable Dumbbells purchased by Amazon customers would outweigh more than 70 adult elephants.
If you unfolded and stacked each pair of jeans purchased by Amazon customers this holiday, the height would be 2,500 times taller than the Statue of Liberty.
Amazon customers purchased enough sweaters to outfit each of Santa's reindeer during Christmas Eve deliveries for the next 14,000 years.
Amazon customers purchased enough copies of Just Dance 3 to give 15 copies to each person who participated in setting the world record for simultaneous dancing.
Amazon customers purchased enough HeatMax HotHands Handwarmers to give a pair to each resident of Iceland.
Amazon customers purchased enough Rory's Story Cubes to give a cube to each person watching the New Year's Eve ball drop live at Times Square.
Did you also get the Fire? How many of your peers got one over the iPad? Let us know in the comments below.