Amazon 'Kindle Fire' phone rumor round-up: 3D interface, specs, release date, and price
26

Update:

The Amazon Fire Phone is now official. Skip these rumors, and go the official Fire Phone news here.
Amazon is building its first smartphone and it is expected to come with unique 3D features that will change the traditional tap-and-swipe way around a phone, adding completely new tilting gesture navigation.
Amazon has released the official teaser for the upcoming 'Kindle Fire' phone and it even slipped a few frames where you can see the device, but what's really notable is the reaction of people using it.
"It moved with me,"
that's probably the phrase that best summarizes the experience that you should expect, as first-time users are moving around the phone, looking at it from various angles to enjoy the alleged 3D-esque effect.
"I have never seen anything like this"
catch phrases fly around as well, telling you that what's coming is really new. But what's it really about?
Novel 3D, gesture-based interface, not about specs
Amazon's first smartphone (it could be the 'Kindle' phone, the 'Fire' phone, or something totally new) is said to come with a reasonably-sized 4.7-inch display, 720p display, quad-core Snapdragon processor (unknown model), 2GB of RAM, and a 13MP rear camera. Good enough, but nothing jaw-dropping, isn't it?
It's not just about the specs this time around
It's not just about the specs this time around - instead, Amazon will try to make a run with a phone that offers features unlike any other. Like its Kindle Fire tablets, we expect Amazon's first foray into smartphones to come with a heavily-modified version of Android, so as you feel in Amazon's ecosystem rather than in Google's.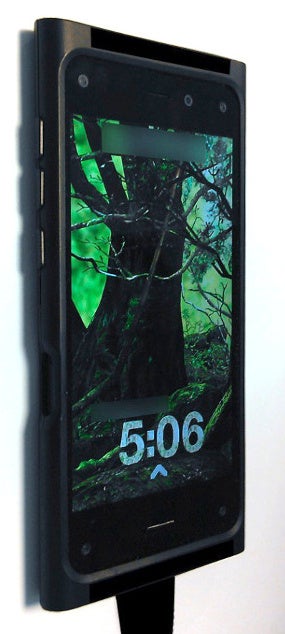 This heavy skin is what makes a brand new way of navigating a smartphone by just tilting your smartphone possible. the alleged new tilt-based gestures and 3D user interface possible.
Amazon is said to have gone as far as removing all menus in apps - you'd just tilt your phone left and right to get into settings. Tilting the phone like that would result in a screen with the settings sliding over.
In the messaging app, tilting the phone to the screen would bring the camera, allowing you to quickly embed an image to your text. In the weather app, on the other hand, just tilt the phone to get the extended forecast.
The implementations varies in apps: while reading a book in the Kindle app, for instance, tilting the phone would bring up the X-Ray menu with references about the book; in the email app, you'd be able to tilt the phone just a bit to see labels for the otherwise label-less icons. In a search for, say, a restaurant, tilting the phone when looking at the list of results will display Yelp ratings. In Amazon's video store, when looking at a list of movies, you'd be able to just tilt the phone to see IMDB ratings.
All this magic is not completely software-based, though. The Amazon phone is said to sport a whopping four power-savvy infra-red cameras on the front that will work in concert with a pack of sensors to track the position of your head in regards to the phone. Amazon also hints that it will introduce a brand new kind of sensor that we're looking forward to see.
In addition to this ground-breaking new feature, Amazon is also bundling up the possibility for your camera to read and recognize signs and other text in real-world pictures via optical image recognition (OCR). The camera software will thus allegedly be able to extract the text from images, and then even translate it into another language.
Not just a phone: a gateway to Amazon's services
As innovative as all these new features sound, Amazon might have an even bigger ace up its sleeve, and that's the data plan that its smartphone is said to come with.
A new Prime data plan is allegedly in the works that could bring some of Amazon's Prime services for free (or for a reduced price) to those who have the handset. One such possible service is Amazon's Prime Instant Video, a huge repository of video, and a rival to services like Netflix.
At the beginning, Amazon's handset is also allegedly arriving as an AT&T-exclusive. If the free Instant Video rumor does indeed turn out true, AT&T will have a big boost of traffic to take care of.
Amazon 'Fire' phone: release date and price
Amazon has already officially confirmed the announcement date for its 'Kindle Fire' smartphone: June 18th. This, however, does not mean that the phone will launch right away - in fact, all rumors agree that Amazon's first smartphone is coming sometime in September.
Given all the economies in specs, we have all reasons to expect the Amazon phone to be extremely affordable, in a way similar to how cheap Amazon's tablets are. If so, the company with the smiling logo, will be looking for more scale to make that smile on its logo even wider. As for us, the consumers, we can only like the prospect of innovation, and hope this turns the way of the iPhone, rather than the 'Facebook phone'.