Amazon Kindle Fire 2 to be based on Android 4.0 Ice Cream Sandwich?
15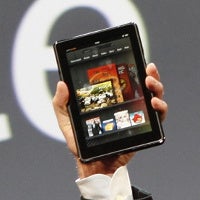 The
Amazon Kindle Fire 2
is not the only device that we expect Amazon will bring today, but it seems like the one device we're most certain we'll see. Rumor has it that Amazon will unveil a smartphone along with its second-generation 7-inch Fire, so there's definitely a lot to be excited about.
The Amazon Kindle Fire 2 on the other hand is now said to be a
tablet based on Android 4.0.3 Ice Cream Sandwich
. The original Fire tablet was based on Android
2.3
Gingerbread with a heavy overlay on top of it. A more refined and streamlined version of Amazon's skin is still expected, but this time on top of ICS.
Interestingly, hours before the big Amazon event, the name
"AmazonKFTT"
instead of the much simpler earlier "AmazonKindleFire" has surfaced in an app hardware usage logs.
We're curious to see whether the smoothness of Jelly Bean will arrive to the Kindle Fire, so stay tuned for the event which kicks off in less than three hours, but in the meantime do let us know - what do you expect out of the new Fire?
source:
Engadget