Alleged iPhone 5 cases hint at larger screen and smaller connector, Apple to out an adapter for older accessories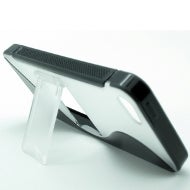 A number of pictures from what are supposedly case makers preparing for the next iPhone are out, and the dimensions and cutouts seemingly confirm that the sixth generation iPhone will have a slightly larger screen, and a smaller dock connector.
This much we have heard already many times, and the cases are just another tidbit of info supporting the thesis. It's not the first time when
numerous case designs leak
, only to turn out that their makers' info was for the unit due this year, and Apple actually announced the
iPhone 4S
.
What we haven't heard before, though, is the claim that the UK blog where the case pictures were sent to makes, and it is that Apple will actually offer an adapter from the current 30-pin dock connector, to the rumored 19-pin, to ease the transition pain if you have older accessories.