Proliferation of Chinese iPhone 5 cases might be due to $3100 paid for a "lost" prototype
3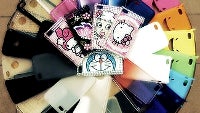 Those
numerous iPhone 5 cases
of every color and material chillaxing in China? Their proliferation might be due not to
leaked schematics
, or at least not only, but rather
another case of intentional leak from a Foxconn factory
.
M.I.C Gadget, which specializes in reporting about Chinese gadget knockoffs and other semi-legal shenanigans in the region, has received a tip that the
abundance of iPhone 5 cases
months before release of the actual thing is due to a prototype gone missing from Foxconn's Shenzhen factory.
The displaced phone was allegedly then pawned off for the equivalent of $3100 to one of the case manufacturers, but the person wiped the software beforehand, thus rendering the GPS tracking useless. What sounds a bit off about this story is that the prototype was allegedly housed in a chassis to look the iPhone 4, and the cases hint at a taller and wider next iPhone, but the reports are that
Foxconn has already penalized management for losing a prototype
, so there might be a grain of truth in the story.