Vodafone salesperson accidentally sells a white iPhone 4 model to a customer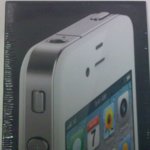 Literally coming down to the wire, especially considering the numerous delays and promises we've heard about the white iPhone 4, it seems like we're finally
nearing the inevitable
. In just the last couple weeks alone, we've been hearing a ton of
rumors about the white iPhone 4's
expected launch, but now we're finding one surprising news that cements its validity.
Apparently, it was found that Vodafone recently began receiving shipments of the mythical device in the UK, but as fate would have it,
an employee accidentally rang it up for sale
as a black iPhone 4 to one lucky customer. Photos of the device and its retail packaging were soon snapped – thus giving us more hope that it's official launch is going to be soon at hand. Seeing that everything in their inventory is monitored to the teeth, Vodafone quickly realized the mistake and sent out notices informing that shipments of it were being stopped until next week.
At this point, it's looking very likely that consumers all around will soon have the fine opportunity to pick up this pristine looking iPhone 4. Granted that we've been waiting almost close to the year, it's still nonetheless better late than never – and considering the speculations that the next generation iPhone will be delayed from its usual summer roll out, this model can seemingly tide some people over.
source:
Engadget