All we know about Motorola Moto X: round-up
32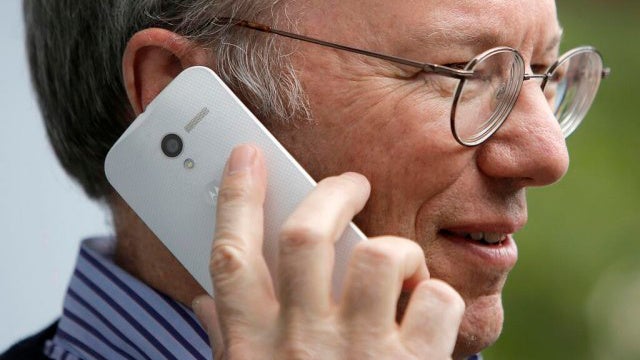 The hype around the
Motorola Moto X
is building up. The Moto X is different by design - a device with middling specs, it focuses on function instead. We have seen it appear in
benchmarks
,
images
and
video
, so it's about time to round it all up.
Here is all we know about the Motorola Moto X (and the small, but exciting details we yet don't!).
1.
Customization options galore
Motorola is rumored to set up an online portal where you'd be able to practically build the Moto X you want. White plastic like we saw on Eric Schmidt's Moto X would be the default option, but you'd be able to select
exotic materials like wood (yes, wood!)
for your phone at launch. Materials like aluminum, ceramics and even fabrics should also become an option shortly after the official roll-out. Of course, there will be a ton of different color options and the number of colors we are hearing is over 20!
Customization options will be plentiful and you can also select the default
wallpaper, ringtone and apps
so you feel right at home from the very first time you start the device. This might sound more like gimmickery, but thinking again why not save yourself the bloatware and get a very clean Android install? There might be more depth to this than you see on the surface.
2.
Always-on 'Open Mic'
The functionality has already appeared in Google Glass, but the Motorola Moto X will be the first retail device with it.
The
'always on system'
has been made possible by proprietary dedicated natural language processor that combines input from audio sensors, noise estimators, noise cancellation techniques and Google's speech recognition cloud brain. Right now, it seems that it will not become part of the Android project - instead it would probably remain a Motorola exclusive, walled in closed proprietary code. Some heavy custom voice processing has to happen to make this possible without killing your battery in hours and Google obviously thinks it has nailed it.
That is not the only software feature that will impress, though. The Moto X will be contextually aware and it will act upon its whereabouts. We have not yet heard about practical uses of contextual aware actions, but we'd guess that the phone would be able to determine when you are at home and when you are at work for instance and change itself to match your needs.
3.
'Clear Pixel' camera
'Clear Pixel' camera
. Just a couple of days ago, Motorola teased a picture on Twitter showing how blurry photos at night will no longer be an issue with the Moto X.
How is this possible? We have the topic covered in-depth, but let's just mention that Motorola might use a radically different camera technology with a new filter array on top of the camera sensor. That new filter will allow twice more light in and that's where the name 'Clear
Pixel
' camera comes from.
We recommend you take a look at our in-depth coverage of the possible technology behind the new
Moto X camera
where we explain what is the new Clarity Plus filter array and how it is better than a standard Bayer filter. Those terms might seem confusing, but a look at that article will lift the mystery of that upcoming technology.
That's why Google's Motorola has decided to change the focus on functionality rather than specs. The Moto X
might appear like a mid-range smartphone
in 2013 (and it is - by pure specs), but it is also much more than that.
With that disclaimer in mind, here are the rumored specs, chances are they won't differ much from the official ones:
4.7-inch 720 x 1280 pixel display of unknown kind
1.7GHz dual-core MSM8960 Pro (an updated Snapdragon S4 Plus with an Adreno 320 GPU)
2GB of RAM (possibly subject to customization)
16GB of storage (subject to customization)
10MP rear camera
2MP front camera
4G LTE (possibly 4G LTE-A) connectivity, dual LTE (dLTE) Multiple Input Multiple Output (MIMO) Smart Antenna
'Industry leading' battery life
'Pure' Android, to support 'fast upgrade cycles'
AFFORDABLE PRICE AND RELEASE DATE SOON
The biggest unknown around the Moto X remains its price. Rumors split on this, but we tend to believe that Motorola will make this an extremely affordable device. Think no contract ties and still price of between $199 and $299.
The Moto X is the first device that would truly show how Google has transformed Motorola and we are very excited about it. Good news is we should not wait long until we get to see it officially. PhoneArena originally broke the story that the Moto X is coming to Verizon on
August 23rd
, so the official unveiling should come in the next couple of weeks, likely in early August.
The US will be the first to get it in Q3, but other countries including Europe should also taste the kind of innovation Moto X brings in Q4. We expect to see it on all major U.S. carriers including Verizon and AT&T, and it seems that AT&T will have some kind of an exclusive on it - possibly a material or color.
If Motorola manages to deliver on its last big promise that is quick Android updates and stock or near stock experience, this might be a truly revolutionary device. Will the American customer - tied to 2-year contracts - accept the
idea of a no-contract phone
? And what will be the reaction? That's something we're looking forward to see in the very near future.
All we know about the Motorola Moto X
references:
Taylor Wimberly