Moto X running on AT&T undergoes CPU test, Moto Magic voice command on video, confirms some specs
32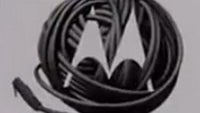 The
Moto X
is certainly making the rounds lately, not bad for a device that is still awaiting some official acknowledgements. What is the Moto X to you? For some it looks like a mid-range type device, for others it may be high-end because it looks like it will have a solid build quality, with a fair amount of personalization.
The first video reveals a lot to us, first we get to see part of the power-on boot screen sequence, showing us the Motorola logo going through various morphs before presenting us with what
looks like stock, or really close to stock Android.
The person running CPU Identifier on the device also shows us a bit of the App tray where we see some redundant apps (like two camera apps, two galleries, two calendars) which may be just tests of different feature sets. We are not saying any of these will be preloaded, but it is good to see various apps installed and thus purportedly functional on the test hardware.
Spec wise we see the Moto X running a
1.7GHz Qualcomm MSM8960 dual-core CPU with an Andreno 320 GPU.
We caught wind of these specs about a month ago
, so there were no surprises in that department. The video is introduced as a "GSM Moto X" and we see AT&T network identifiers on the screen so we can safely say this device will support the common GSM/HSPA and LTE bands used by AT&T.
The model number for this Motorola is XT1058.
In the second video, we are given a brief look at "Moto Magic," a voice command interface for the Moto X. Obviously designed to work with Google Now, the device brings up a search result and things are good to go from there. Where the voice recognition algorithm is absolutely sure, it would be even better if it opened the page directly instead of rendering a search result, but either way you look at it, it was working really fast.
We have known that this device was not destined to be a
Samsung Galaxy S4
or
HTC One
killer, but if the user experience remains that fluid, and manages to maintain a minimal UI overlay to ensure competent performance, the Moto X is sure to be a contender. Throw in the
rumored personalization that may be available
for it, and this will indeed be the beginning of an era of renewal for Motorola.
source: kronikbudz (Vimeo
1
,
2
)