Alexa is finally making the move to Amazon's Fire tablets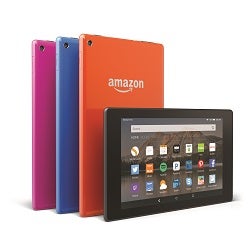 Virtual assistants are becoming more and more popular as time goes on. Between
Amazon Alexa
,
Google Assistant
, Apple's Siri, and even SoundHound's Houd, there are plenty of solid choices out there for a virtual assistant that can help you get stuff done more efficiently and effectively throughout your day. Amazon first introduced their Alexa AI with the original Amazon Echo a couple years ago, and since then, Alexa has ventured out to the Amazon Echo Dot, Tap, Fire TV,
CoWatch smartwatch
, and other gadgets. However, one of the most notable omissions has been Amazon's own Fire tablets. Thankfully, that's changing today.
In the latest update for the Amazon Fire tablets, Alexa will finally be making her way to these devices. The included models that will be receiving the Alexa update include the Fire HD 8, HD 10, and update Fire HD 8 that Amazon released about a month ago. In the update, users will be able to access Alexa by pressing the on-screen home navigation button, but there's currently no support to summon the assistant via a voice command like you can do on the Echo and Echo Dot.
However, as disappointing as it is to not have voice command support on the Fire tablets, Amazon has added a pretty cool feature when you connect your Fire tablet to either an Echo or Echo Dot. Once the connection has been established, asking a question to either the Echo or Echo Dot will result in your Fire tablet displaying information on the screen in relation to the question that's been asked or the command that's been insinuated. And, in addition to having related info being presented on the display of the Fire tablet, the speaker of the device will also omit your Echo or Echo Dot's answer. You'll need to make sure that both devices are connected to the same Wi-Fi network in order for this to work, but it's a cool feature nonetheless.
The Alexa update for the Fire HD 10 and both versions of the HD 8 should be hitting your tablets now.