Alcatel's Pop Mega phablet comes with an extra phone
7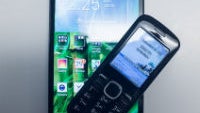 This is either a terrible logical conclusion to the recent trend of larger and larger phones, or Alcatel has an obsession with the old Xzibit meme. (Yo dawg, we heard you like phones, so we're giving your phone it's own phone.) The Pop Mega is a 6-inch Android phablet from Alcatel coming to Tracfone's prepaid Straight Talk next month, but the most interesting may be what else comes in the box.
Included with the Pop Mega is a device called the Buddy, which looks like a feature phone from about 10 years ago, but it connects to the Pop Mega via Bluetooth. The Buddy can serve double duty by allowing you to have a much smaller device pressed to your head for phone calls, and also to offload a bit of battery usage here and there. The Buddy will be in the box with the Pop Mega, which will cost users $249 total. That's a much better deal than the old
HTC Mini+
, which was a similar device that cost $100 on its own (though the Mini+ was much prettier).
In addition to the 6-inch Pop Mega, Alcatel will also have 4-inch and 5-inch Pop phones for Tracfone available next month. These are all starter phones for those who just want a smartphone regardless of the features. The Pop Mega's 6-inch screen is just 960 x 540, and the 4-inch Pop Star ($149) is a sad 800×480. They do include LTE though, so that's nice. No word on the name or price of the 5-inch model, but we'd assume it would be $200 to slide in between the Mega and the Star.
But, the real question of all this is whether we should expect more phablets or cell-enabled tablets to come with companion phones. It might not be too bad to have a 7-inch tablet with a companion phone.