After Asus, now Pantech also complains of Qualcomm Snapdragon S4 chip supply shortages
12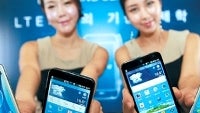 Asus whined last week that it can't get enough Snapdragon S4 chips from Qualcomm for its products, and now Pantech's CEO has a similar gripe: "T
he supply is not enough. If we had been provided with enough chipsets, we could have gained more momentum to lead the LTE phone market now. Due to the lack of chip supply, we had to lower the sales goal for the new phone. For now, we aim to secure a similar level of market share to our hit phone Vega Racer.
"
Qualcomm's shares fell after its record earnings quarter precisely because it gave a weaker guidance for the next two quarters on account of
troubles with enough 28nm chips yields by TSMC
. The foundry is trying to increase output for the spanking new mobile chip production method, but supply constraints won't start easing until September, Qualcomm said, with demand actually meeting supply as far as early next year.
Given that Qualcomm has stakes in both HTC and Pantech, it's hard to gauge towards which one it's playing favorites now. It also has to supply chips for the US versions of the
One X
and the
Galaxy S III
, not to mention the next crop of Nokia Windows Phones with Apollo, which are also likely to sport the S4.
Recommended Stories