Samsung to use a 32nm quad-core Exynos and its own LTE baseband radio in the Galaxy S III
54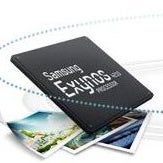 The hamster wheel that will power the Samsung Galaxy S III has been shrouded in mystery so far, but thanks to a Samsung exec who shall not be named, now we know that it will be a quad-core 32nm Exynos processor.
That makes
Exynos 4412
ever more certain to debut in there, since it is indeed made by the frugal, yet more powerful 32nm process, and has four cores that can be humming at 1.5GHz-1.8GHz maximum speeds, depending on who your source is. It is still a Cortex-A9 design, but the die shrink and larger number of cores make for a brawnier and efficient replacement of the current 45nm Exynos in the Galaxy S II.
The biggest mystery was (and still is) what will be the graphics chip inside, and also what baseband radio chip will be used by the SGS III. For the latter Samsung execs say they are now confident enough to use
the firm's own wireless connectivity chips
, like in the
Galaxy Nexus
, instead of relying on Qualcomm, and the new Exynos system-on-a-chip is ready to rumble:
`
It was believed that Qualcomm chips had greater stability and suited easy upgrades. But, that's the old story. Our long-term plan is clear. Using Samsung solutions for Samsung products.'
'
The decision to go with a one-chip solution for the Galaxy S III has been strategic and came directly from the boss JK Shin. What sounded like music to our ears was the reiterated 26% performance improvement in the new Exynos, with 50% gains in battery life. If you want to see the power consumption and performance of the 32nm Exynos vs the current-gen 45nm, check
the demo Samsung did for us at CES
.