Advertisement insert displays the DROID 2 as "coming soon"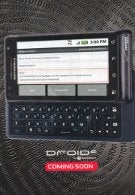 Although we're all still in the dark regarding an actual hard street date for the Motorola DROID 2, that's not stopping Big Red from raising some awareness by sending out advertisements teasing the handset in the Sunday newspaper. Naturally this is one tactic they're deploying to get the word out that the Motorola DROID 2 will be "coming soon" – which might strike a chord with those individuals who aren't in the loop about the latest things in the mobile technology. You know that it's coming when the original Motorola DROID is currently out of stock on Verizon's web site, which of course could mean that they're making some room for its impending successor to make its appearance. So far
fingers have pointed to the date of August 12th for its release
, however, Verizon has yet to come out and officially confirm anything regarding it. If it does manage to make its presence this week, it'll probably put a sting on RIM's launch for the BlackBerry Torch 9800.
Motorola DROID 2 A955 Preliminary Specifications
source:
Android Central