Adobe Flash sings its mobile swan song... almost literally
7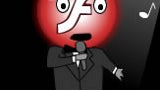 The news about
Adobe pulling the plug on mobile Flash
and refocusing on HTML5 shocked the industry. RIM went as far as to announce it will continue supporting the technology on its own, even after Adobe quits.
Now, we can imagine that other companies and especially Android makers were disappointed as well as this was thought to be one of the biggest advantages of the platform.
Adobe itself took a beating on the stock market
- its shares were down 8% after the announcement. Some interesting details also surfaced as former engineer Carlos Icaza blamed the company for misjudging the importance of smartphones.
"Adobe said that smartphones were going to be a niche,"
Icaza revealed.
Whether this would have changed something remains a theoretic question, but the fact remains - the time has come for Adobe to sing the swan song of Flash. Almost literally, if we are to believe the Joy of Tech, which came up with these final words sung by a red headed suit-clad Frank Sinatra-like singer. Check it out below and prepare for a surprise disappearance. Don't hesitate to also let us know whether you are going to miss the technology and is HTML5 ready to take all of Flash's load?