Adobe stocks slammed, management criticized after killing mobile Flash development
37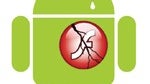 Adobe has received blunt criticism from a former executive and seen its market cap drop 8% after they announced the end of development of the mobile version of Flash Player. While much of the furor since the announcement has centered on Apple's choice to forgo Flash – and Android and RIM's choice to embrace it – these new revelations suggest that Adobe simply failed to realize the importance of touchscreen smartphones in time.
Carlos Icaza, a former engineer and manager of Flash, says he warned Adobe about the need for a touchscreen version of Flash in 2007 after the iPhone launched, but Adobe chose to ignore the smartphone market and instead optimize a version of Flash for feature phones, which were more common at the time.
"
Adobe said that smartphones were going to be a niche
," Icaza said.
As a result it would be three years before Adobe launched a touchscreen-optimized version of Flash for mobile devices, and by then Apple had already decided to bar the format from their mobile devices. This was extended to the iPad in 2010, and so Flash content could not be accessed on two of the most important product categories for web consumption.
Flash for mobile has never been given
stellar reviews
; even today, four years after the iPhone launched and more than a year after Adobe got a version of Flash for Android out the door, the product continues to get mediocre reviews at best.
Adobe has signaled the shift to HTML 5 creation for some time, but the final coup de grâce to mobile FLash was still too abrupt for investors, who are concerned about the uncertainty the move creates for developers that utilize Adobe products. If they decide that other tools are more stable, or that Adobe is no longer an industry leader when it comes to HTML 5, the demand for Adobe's content creation software could decline sharply.
If that happens, the stock will drop a lot more than 8%.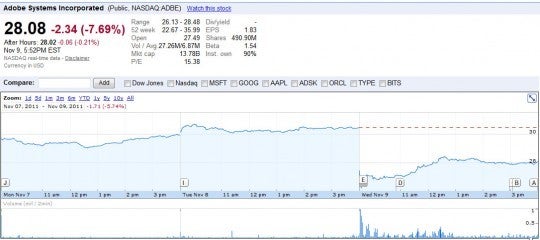 Source:
ReadWriteWeb
via
Slash Gear