Acer Liquid S2 photo and 4K video samples
18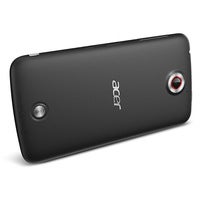 Acer treated us to quite a surprise yesterday. It
announced
a new high-end smartphone – the
Liquid S2
– with a droolworthy specs sheet and a number of goodies included on its feature set. One of them is the 13MP main camera which can be used to record video in the crazy-sounding 4K resolution. Actually, the Acer Liquid S2 is the first smartphone capable of recording video in Ultra high definition.
For those not familiar, 4K is what follows beyond Full HD – a video standard that will be best experienced on those new Ultra HD television sets. Seeing it supported by a smartphone is nothing short of impressive given the footage's raw resolution and how much processing power is likely required to capture or play it back properly. So naturally, we gave 4K video recording a go while playing with the Acer Liquid S2 at IFA 2013.
The sample video that we took, captured at a resolution of 3840 by 2160 pixels, is embedded below, and to watch it at full res, make sure you pick "Original" from the list of available resolutions. However, don't draw any final conclusions about its quality.
The Acer Liquid S2 unit we used during our brief testing wasn't yet finalized so future software optimizations may change how the smartphone's 4K video looks.