AT&T to offer LG ARENA with Mobile TV
6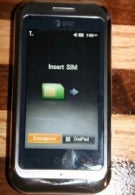 reported
that a variant of the ARENA for AT&T had been pictured and the story turned out to be 100% on the money. AT&T will start offering the featurephone with online sales starting February 26th for $249.99 with a 2 year contract. A $50 rebate knocks down the price to $199.99. On March 7th, the rest of AT&T's sales channels will be offering the ARENA. Based on a leaked photo, it looks like Best Buy will be offering the phone for $149.99 with the 2 year contract and $399.99 off contract.
AT&T is adding its Mobile TV service to the handset which will allow you to watch your shows on the 3 inch WVGA touchscreen display. The ARENA features the cube-centric LG S-class UI and a 5MP camera with AF which was much more impressive when the device was originally debuted at the MWC. That was last year's MWC, of course. Other features include support for AT&T Navigator, GPS, Wi-Fi and 8GB of internal storage that can be increased thanks to the microSDHC slot.
All of those Americans who were jealous of those other countries that had the LG Arena can now stop being green. And while LG already has
introduced
the LG Arena Max with a 1GHz Snapdragon chip under the hood, first things first. The original Arena model has to get the opportunity to show what it can do with the Red, White and Blue.
LG ARENA US Specifications
source:
MobileCrunch
,
PhoneNews