AT&T puts its trust in the FCC over the FTC when it comes to an investigation over its throttling
15
Yesterday, we told you about a
legal filing made by AT&T, seeking a dismissal of an FTC lawsuit
against the carrier.
The FTC had originally filed its suit in October
, stating that AT&T misled its unlimited customers, who are now subject to having their data speed throttled. AT&T claims that as a common carrier, it is the FCC that has jurisdiction over this matter, not the FTC.
Based on the Motion to Dismiss filed by AT&T, a copy of which we embedded in our story on Thursday, it would appear that the FCC is involved in an investigation to see if AT&T has deceived its unlimited customers. The reason we know this is a comment made by AT&T in its dismissal filing. AT&T wrote, "
The FTC seeks to litigate the very same issues in an inappropriate parallel proceeding
." That would seem to indicate that a proceeding over the same subject is active right now.
And AT&T even goes further in the document by saying that the FCC is in the process of deciding whether its network management program (read throttling) is "unfair" and the disclosures it made "inadequate." The nation's second largest carrier even says that the FCC should be handling this affair "just as congress intended."
We don't know how long it will take for a ruling on AT&T's dismissal motion. Considering that AT&T is putting its trust in the FCC over the FTC, it will be interesting to see how this all plays out.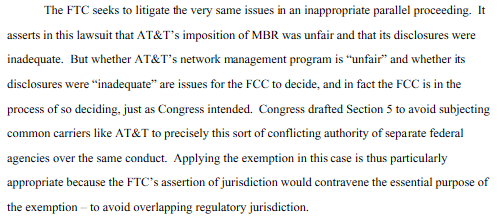 AT&T reveals that the FCC is investigating its throttling of customers getting unlimited data
source:
GigaOm