ASUS roadmap reveals possible price points for Windows 8 tablets
4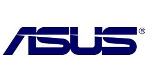 We have heard very little about the possible price points for Windows 8 tablets. The other day, Microsoft CEO Steve Ballmer made it clear that the software giant's Surface tablets
will not be "the cheap option."
But what about other manufacturers? A roadmap for ASUS obtained by
ZDNET
shows that the Windows 8 devices that will be offered by the company will run from
$599 to as high as $1299
.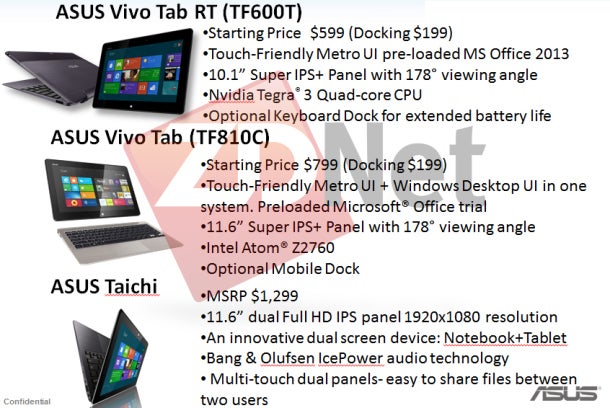 Leaked Windows 8 roadmap for ASUS
If one thing stands out from the roadmap, it is the difference in price between the two versions of the ASUS Vivo Tab. The "RT" model ( (TF600T)), which
uses an ARM based processor
, runs like a traditional tablet such as the
Apple iPad
. This tablet is expected to cost $599 with an additional $199 for the QWERTY keyboard dock. With a 10.1 inch display, this model is made to compete with other tablets in the 10 inch category like the Apple iPad and the
Samsung GALAXY Note 10.1
.
The second tablet in the roadmap is the ASUS Vivo Tab (TF810C). This model, besides offering a larger 11.6 inch display, is
powered by Intel's Atom processor and runs on Windows 8
. The price for this unit is $799 with the optional QWERTY dock going for $199. While considered a tablet, thanks to the OS and the processor, this will feel more like you're using a laptop computer.
At $1,299 the ASUS Taichi is not cheap. But then again, this is a dual screen device that functions
both as a laptop and as a tablet
. The 11.6 inch screen has resolution of 1920 x 1080 and is equipped with Bang and Olufsen IcePower audio technology. The device has multi-touch dual panels.
The problem with the high prices on this roadmap is that if true, we can't see Windows getting much market share in the tablet category. Some Windows 8 product might move as those who are used to Windows on their laptop or notebook decide to give it a shot on a tablet. But for others, there are just
too many low priced Android choices
available, including ASUS' own
Google Nexus 7
tablet.
source:
ZDNET